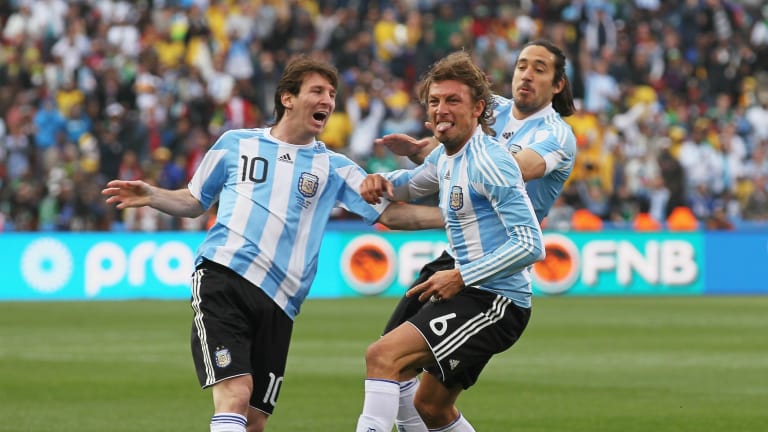 Gabriel Heinze didn't play youth team football for Argentina. His first taste of international football was at senior level. The defender made his debut for two-time world champions Argentina during the international friendly clash with hosts Libya. The friendly game between Libya and Argentina took place on April 30, 2003. Gabriel Heinze was part of the Argentina team that won gold at the football event of the 2004 Olympic Games in Athens. He scored once in six matches for his country during the Games. Heinze registered his only goal of the Olympic Games against Serbia and Montenegro. The versatile defender scored one of the goals as Argentina ran out 6-0 winners.
Heinze battled with injury during the 2005/06 season and that made him miss the majority of the season, but it didn't stop him from going to the World Cup tournament in Germany. He was part of the Argentina team that were beaten by hosts Germany on penalties at the quarterfinal stage of the competition. The two football superpowers had to resort to the dreaded penalty shootout after regulation time could not separate them. Extra time also failed to separate them with the two teams scoring one goal each. Germany went on to win the shootout to book their place in the last four.
Gabriel Heinze was also part of the Argentina team to the 2007 edition of the Copa America tournament. He was on the scoresheet against Mexico in the semifinals. Heinze was one of the goalscorers as Argentina thrashed Mexico 3-0 to book their spot in the final. He scored with his head from a Juan Roman Riquelme free-kick. Argentina then lost out to rivals Brazil in the final.
Heinze was also at the 2010 FIFA World Cup tournament on South African soil and he played four of the five Argentina games as they reached the quarterfinals before losing 4-0 to Germany. He was on the scoresheet to give Argentina a 1-0 win over Nigeria in the group stage for his third international goal.